Contact Information
email:

Words in a Row
PO Box 39
Broadbent, OR 97414
Jere M. Phone: 541-572-2569
Fax: 541-572-2560
Desi M. Phone: 541-991-4569
Marie G. Phone: 541-572-2569
How to Reach Us
Feel free to send us an email any time, or call us at the phone numbers above during regular business hours (9-6 Pacific Standard Time, Monday through Saturday).
Contact Us by Email
Hey, we're always glad to hear from visitors!
To contact us, use the handy form above or send us an email:

. We won't abuse your email address if you send us an email. Here's our privacy statement. We try to answer all email within 24 hours.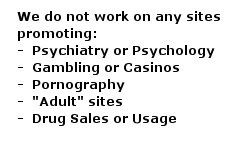 Note: For obvious reasons we do not do any work on sites related to the list in the image at right:
Why "Words in a Row"?
Words in a Row takes its name from a passage in a book by Robert A. Heinlein, "the Dean of Science Fiction." In his book, Glory Road the hero Oscar has trouble falling asleep one night. It seems he had an affliction many of us share: he must read something, anything, before he can fall asleep. He asks his companion if he has anything to read. Absolutely anything will do: "You know, words in a row."
So, Who Are You Guys?
Words in a Row is primarily the brainchild of Jere Matlock, a professional writer and website designer/marketer. His multi-talented daughter, Desi Matlock, is his right-hand "man" and is responsible for managing Pay-per-click campaigns for our clients and other Search Engine Marketing -- Desi is a "Google Certified Agent". We handle over a million dollars per year in Google AdWords spend on behalf of our clients.
This is a family business - we also have Liz Gale (another daughter) working with us as - we use her skills in the areas of Joomla, WordPress and xCart installations.
We farm out some of our work to those who are qualified to do it, mostly to youngsters in their twenties and thirties who don't mind staying up into the wee hours to get something done. They know who they are!
Most of the writing and SEO work Jere does himself, and he closely supervises and quality-checks everything produced under the Words in a Row name. In short, Words in a Row is a loose international network (we have people working for us in Australia and Croatia, Costa Rica and the UK as well as Oregon, Florida and New York) headed by a mostly benevolent monarch. We get things done!
So, What Have You Designed?
Words in a Row has been involved in the design, re-design (for search engine optimizing) and marketing of the following websites, among many others:
Feel free to contact any of our customers for a referral. (Do keep it brief - they are busy people!) To make it easy for you, we've set up a References Page.
So, What Have You Written?
Jere Matlock began writing in the 1960's and has written hundreds of magazine and newspaper articles, but does not consider himself a reporter -- Heaven forbid! As any of you working reporters out there know, you are given your story (and its "slant") by the editor of the paper/magazine before you start writing the story. Any "reporting" you do after that is simply finding sound bites and details that will fit the editorial slant you are given, based on the affiliations of your newspaper or magazine, as determined by its owners and larger advertisers.
Although the "facts" as presented in a newspaper or in a TV News report may all be "accurate", the truth itself often suffers greatly from this system. Controversy may sell papers, but in its presentation it often creates tremendous bias against those who are doing good in the world, while gaining sympathy for the truly evil. Mr. Matlock refuses to participate in this omnipresent newspaper scam. If you have led an insular existence and need to see actual examples of this, he will be happy to enlighten you. For example, ask him about the time Dan Rather (30 some years ago) interviewed a minister and then edited the interview so that the answers did not fit the questions, to make the person look like he was confessing to things he did not do, saying things he did not say; and aired it nationally. You only have to look at the two recent Pulitzer Prizes based on fabricated info from the New York Times and USA Today, to realize that "the truth" is not really what they are selling.
Jere has also written several books, some of which you can sample and/or buy on our books page.
For the past several years, after a very busy stint working for Warner Brothers as the Manager of Kirstie Alley's production company (True Blue Productions), Jere has sought to simplify his life. He is now a self-described "gentleman rancher" who lives on a timber ranch in Southwestern Oregon, near the Pacific. Being a timber rancher is fairly easy--it mostly involves standing around watching the trees grow. Even though they grow about four feet a year, that gets boring very fast, especially during the long rainy winters. It leaves ample time for him to write amusing third-person descriptions of the long, rainy winters--such as this one.
He is also a published poet, but does not thrust his poems upon the world against its will. For the curious, several of his poems are on his blog: Poetry. Warning: You may actually understand them.
Return to Top of Page.
We maintain our own opt-in list of people like you, interested in web design, optimizing for the search engines, and marketing online. Subscribe to our Newsletter, Design Coolness.