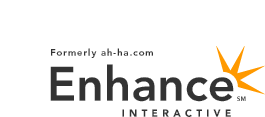 This is an archived article written in 2004, just after Enhance Interactive was purchased by Marchex International, which is a B2B call and "conversational analytics" company.
Enhance Interactive seems to have been eliminated at some point in the intervening years.
---
Enhance Interactive
Our Experience
During one week in the spring of 2004, Enhance Interactive charged my client approximately USD $1,500 for 5,000 clickthroughs to his site. From those 5,000 clickthroughs, not one lead was generated. All of the clickthroughs were reported in a very short period (a matter of a week) by Enhance Interactive.
Clickthroughs from Overture coming through on the same keywords during the same period generated leads at an acceptable ratio--one in five clickthroughs from Overture became a lead.
But for the same keywords, none of 5,000 clickthroughs from Enhance Interactive became leads. The quality of their clickthroughs for my client was judged unacceptable, and this was documented and brought to the attention of executives at Enhance Interactive.
Subsequent attempts to reconcile this matter with Enhance Interactive were stonewalled. Enhance Interactive terminated my client's account when I informed our sales rep at Enhance Interactive that I was posting this page. My client finally got fedup and sent a letter to the CEO of Enhance Interactive, which was eventally answered. After months of negotiation at this level, requiring constant pushing and nudging, a credit of about 50% of the cost of these keywords was made to my client's credit card. So it only cost $750 for 5,000 useless clickthroughs that produced no leads, instead of $1,500.
Based on my experience, it is my opinion that Enhance Interactive executives do not appear to be concerned about the value of its product to its end users, even at the highest corporate levels. We do not recommend advertising with Enhance Interactive for that reason.
While we do not really suspect Enhance Interactive of using fraudulent systems to inflate their income at the expense of their advertisers, our experience with them has led us to believe that they may be susceptible to click fraud. If you choose to use Enhance Interactive, we recommend you follow our advice on click fraud prevention.