Pay-Per-Clickthrough Search Engines
We highly recommend considering your budget carefully before embarking on a pay-per-click marketing campaign.
Pay Per Clickthrough Providers


Google AdWords Ads | Sign Up for Google AdWords Ads
MORE ADVICE: How to get the most out of Google Adwords
We advise that you pay for Google Adwords pay-per-clickthrough advertising if you can afford to pay their minimum required bid for your keywords. This is never less than ten cents. Even at the bottom of the bidding barrel, there are ways to make an Adwords campaign drive traffic. (see Hard Costs) and Google Adwords. However, no Adwords campaign should be running if it doesn't convert. We do offer a service of repairing Adwords campaigns, optimizing them for better performance.
Getting into the top three at Google for any competitive keyword is likely to cost big bucks - especially if you're reaching for keywords you really aren't the best match for. But good results can still be gotten here without being in the top 3 ads.
Google Adwords offers demographic targeting (male/female, age groups, etc), as does Bing. We don't recommend depending too much on the demographic information being completely accurate, it generally isn't. People don't give up their information to search engines very often, and the rest is extrapolated data and is often incorrect. So it is better to not depend solely on demographic targeting to define the audience you want.
If you are going to run your own AdWords account, we highly recommend you sign up for the Inside AdWords Google Group and receive the emails from the AdWords team with advice and tips on using your campaign to the best advantage. We also recommend that you don't run a campaign until you've optimized it and you have at least one a dedicated landing page to send the clicks to - and you need to specifically addresses the keywords you're targeting. Google spend is nearly limitless. Don't waste it - it can be a money pit if you don't carefully lay out a buying path and ensure that your ads line up nicely with your website content.
Back to top of page.
---


Yahoo! Search Marketing | Open a Bidding Account
This is Yahoo!'s PPC program. Your ads will display within their search results, as "Sponsored Listings".
Yahoo's marketing is merging into bing's adcenter, so if you'd like to cover your bases, create an account at bing as well.
Back to top of page.
---


Search Bing (previously Windows Live/MSN/Microsoft)
Bing Advertising Signup
Microsoft Bing Advertising Information
This is Microsoft Advertising (previously Microsoft AdCenter, and before that MSN AdCenter), the PPC for Bing (previously Windows Live/MSN).
Microsoft Advertising has a pretty easy sign up process, they walk you through setting up all that "advanced stuff" while creating your account (like target audience, when to display the ads, conversion tracking, and such). Just don't try to backtrack during set-up and you'll be fine.
Microsoft Advertising encourages you to choose a target audience age and gender (pump up your demographics) to boost them and additional bid money into each bid. This sounds great, but don't depend on the information being completely accurate. Shared computers and inaccurate user settings can make this data not accurate enough to depend on completely. It usually is not accurate enough to depend on completely - much of it is extrapolated data and therefore not foolproof.
Their Advertiser system has gotten better and better, easier to use, and had more features. More frequently updated data, better filtration and time variables and better reporting capability (seeing whether your campaign is working). All in all, we have seen good results from it for the few clients willing to spend top dollar here. The conversion rate here has been shown to be decent and it has consistently been a good place to avoid click fraud. We recommend it because of that. (We still recommend utilizing at least one means of combating click fraud if your income depends heavily on search traffic and paid search advertising.)
As of 2010, they're absorbing Yahoo's traffic and you should see both traffic and requisite spend increases. Make sure you're prepared for that.
Back to top of page.
---


Facebook Marketing
Facebook Advertiser Signup
Facebook Advertiser Guidelines (must be signed in)
You CAN sign up to pay for impressions or pay for clicks here. Why ANYONE would sign up to pay for impressions, we don't know. We only recommend the PPC option.
Facebook can send at least as much traffic as Google Adwords can. And that is the first time we've been able to say that in years. The downside? It's not as focused on buying as the traffic from search engines. You need to entertain the visitors you get from facebook, and provide an immediate payoff. Otherwise, you are wasting your time. We don't recommend trying to funnel people into high ticket price sales funnels here, instead collect information, provide a nifty online gadget, or otherwise have them sign up for something free or very very cheap. And if you promise info, you must provide it RIGHT THERE on that first click away from facebook.
Facebook's demographic targeting is as close to perfect as any out there. Trust it, and make sure you really use the demographics data you've got for starters, and you follow the clues available by researching the information on the traffic facebook DOES send you. It's a continuing system, allowing you to collect better market research data than you've ever gotten before if you use it right.
There are very specific rules for facebook ads. Don't give up, because the payoff is terrific as long as you're willing to play by the new social advertising rules. We're available for facebook marketing advice if you want to consult.
Back to top of page.
---

Search MIVA | Open a bidding account at MIVA

MIVA (previously FindWhat) was recommended to me by several other experienced internet marketers as a worthwhile place to put a pay-per-clickthrough listing. My opinion: If you are going to do Yahoo, you might as well do MIVA, too (see Hard Costs). I have several clients who have used MIVA to get traffic and find it more effective than others at a cheaper price. We don't recommend any program above another, though. Results and success are dependent on how you run your advertising campaign.
MIVA listings show up in the following places: Miva.com, Cnet's Search.com, Excite, WebCrawler, MetaCrawler, Dogpile, Microsoft Internet Explorer AutoSearch, Bizjournals, Mamma, and Cometsearch.
Back to top of page.
---

Ask Sponsored Listings
Sign up for Ask Sponsored Listings
Ask.com (previously Ask Jeeves) rolled out their competitive pay-per-click product to Google AdWords or Yahoo! Search Marketing in August of 2005. At first it was caled AJInteractive, but now they call it Ask Sponsored Listings. They no longer require telephone consultation to sign up. Sponsored Search pay per clickthrough. If you are launching a complete pay-per-click campaign, you should try to include Ask.com Sponsored Search. Your ads will be shown on the AJInteractive partner network, which includes Excite, Ask.com, iWon.com, maMMa.com and Search123.com.
Find out more about the services AJInteractive offers here. Here is where to go to log in to your AJInteractive account.
Back to top of page.
---

Search About.com | Info about Advertising with About.com

This is a very expensive system. They only do CPM banner ad campaigns, and you have to contact them directly. The minimal credit card budget there is presently $20,000 dollars. No small to medium sized businesses for them. About.com is the "Boardwalk" of banner advertising spots, though, and has previously shown pretty impressive conversion rates. Unknown if that is still the case.
However, since the price puts them beyond most of our means, and not all of us want to stray from the PPC advertising model, there is a way to show up on about.com at PPC prices. Most of the ads on their pages are actually Google AdWords ads. If you're advertising in Google AdWords, you may be able to bid enough to show up on specific pages in About.com - check into your "placements" at Google for more info.
Back to top of page.
---
Click River is the BETA PPC program for the Amazon.com shopping environment. This is different from store results or a shopping search - these are standard PPC ads displayed within the plethora of Amazon.com mini sites and on Amazon.com. It's still in BETA, so to get in you must fill out an application for a key. Then they will decide whether you fit a profile they are looking to beta test further. Once and if you're granted a key (which could take weeks), you may log in and get started.
We don't generally recommend BETA services because by nature, a BETA is still working the kinks out and can be dangerous to plug your money into. That said, there are advantages to getting in while a PPC program is in BETA. One of these is that you are advertising among a smaller group of individuals and cost per click is usually pretty good considering. The disadvantage is the fact that BETAs tend to be a bit buggy by nature.
If you have experience with this service, please let us know what you think of it.
Back to top of page.
---
The Business.com PPC service gets your ad on CNet, Business.com, Forbes, Hoovers, and more. It's a respectable PPC for B2B businesses. This PPC is not a good place to market for consumers.
You can also contact them at 888-441-4466 to sign up by phone.
Back to top of page.
---

Epilot
Epilot seems to be getting bigger lately - here's a list from April 2004 of the sites they partner with to show their PPC results:

Fitness.com, B2BYellowPages.com, Findia.net, FindIt.com, Yellowpages.com, FindTheWeb.com, Coolwebsearch.com, Findology.com, PageSeeker.com, SearchFeed.com, Searchport.com, Searchbug.com, Searchresult.net, HuntBar.com, NetZero/Juno, Search Hound, Ads.com, Locate.com, 24/7 Media Group, Index, and Mamma.
The largest of these would appear to be YellowPages.com, where they show up at the top of the right-hand side for keywords pets, apartments and others.
Minimum bids are 7 cents here.
Contact:
Everett Watson
Account Manager
24422 Avenida De La Carlota, Suite 120
Laguna Hills, Ca 92653
949.784.0800 ext.201
fax 949.784.0880
Back to top of page.
---
Pulse 360 used to be a part of Kanoodle, but broke away. It is a Content Network only PPC.
---
Try the Kanoodle Search Network PPC
Kanoodle broke their PPC ito two distinct companies. Pulse 360 was their content network and became it's own entity. Kanoodle still has the PPC for their search network also. It says it reaches millions of people who use sites like Dogpile, Metacrawler, WebCrawler, CNET, InfoSpace, etc, plus 2,500 other smaller search-related sites (all second tier search network sites). We don't know the validity of this statement, but Kanoodle once claimed to deliver over 1 billion monthly searches.
Back to top of page.
---

Search LookSmart
Sign up for LookSmart AdCenter
MORE ADVICE: Is LookSmart for you?
LookSmart AdCenter (previously called LookListings) is a pay-per-clickthrough program whose results are primarily shown on retail and content-driven sites. They once were shown on MSN but were dropped because MSN created their own paid advertising program instead. They were then picked up by a lot of second tier search engines: Lycos, MaMMa, RoadRunner and a few others. MSN was by far their largest client and we do not know if the quality has suffered due to the loss of the MSN market.
Looksmart listings can be made to look like search results (URL and description only) or like ads (designed text, keyword insertion).
If you have $149 to sign up with them (see Hard Costs), and if you can afford to pay them $0.15 for every visitor they send you, then go ahead and pay to list at LookSmart AdCenter. Otherwise, skip them.
Back to top of page.
---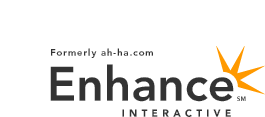 Search "Enhance Interactive"
MORE ADVICE: Why we DO NOT recommend Enhance Interactive.
Enhance Interactive was once known as ah-ha.com, and many of their account management pages still use that domain. It is the third largest pay-per-clickthrough search engine. If you once had an Ah-Ha account, it became an Enhance Interactive account, and your log in should still work here.
They have a $50 minimum deposit on clickthrough traffic. You can pay them $99 for express inclusion if you're in a hurry -- we don't recommend it. You'll pay a minimum of 3 cents per clickthrough. If you plan to use them, we recommend that you set a daily cap at a minimum of $5.00 and set your auto-renew amount at $50.00 or more. But you don't have to auto-renew at first, until you know whether this method of advertising works for you.
Back to top of page.
---
Lycos Insite
Lycos Insite was a pay-per-click program with a limited audience but good click quality until November 2006, when it teamed up with Ask. See Ask PPC section above - or see the Ask signup page.
Back to top of page.
---
Sign up with Links2Go
Links2Go is a pay-per-click program affiliated with GoGuides (a directory). They charge $39.99 as a deposit, all of which is applied to future clicks. Sign up for Links2Go as part of your GoGuides submission, and GoGuides will double your deposit. This makes it so that $79.98 is applied toward future clicks. Either way, there are continuing click charges for the traffic they send you. Links2Go offers details on how this and other offers work on their page about Links2Go Special Offers.
Back to top of page.
ChaCha prides itself on human-reviewers. The reviewer will choose your categories, but the rest of the campaign is presumably left up to you. Note that ChaCha is primarily set up to deliver advertising to cell phones and SMS.
They say it costs as little as $25.00 to sign up here. We assume that this is to advertise in ChaCha's new search engine. It has promise.
Back to top of page.
Other Pay Per Clickthrough Search Engines
If you are really sold on the whole "pay-per-clickthrough" system, here are more pay-per-clickthrough search engines where you can bid on keywords in the same manner as Google and Yahoo!. If you have the advertising budget to pay these search engines, then go for it.
Pay Per Clickthrough Search Engine Resources
MORE ADVICE: About Click Fraud - We highly recommend that you arm yourself against it.
There are several websites devoted to the subject of pay-per-click search engines, and here is one of the best: PayPerClickSearchEngines.com
Click for more info on search engine resources.
Return to Top of Page.
PPC Search Engine Registrations
Pay per clickthrough search engine registration information - lots of advice on what to do (and not do) when registering your website with the pay-per-clickthrough search engines.
Jump to:
"Pay Per Clickthrough" Search Engine Marketing
Were you looking for how to register a blog?.
To set up a link to our website, go here.
This page last updated 2022-07-01.